Mary Barra, the CEO of General Motors, has played an instrumental role in building winning teams at the company. She took over during a challenging time for GM but has led the company to new heights through her leadership and strategic approach.
One of Barra's essential tools is her emphasis on collaboration. She understands that no person can do everything alone, so she fosters an environment where everyone works together toward a shared vision, purpose, or passion. This means breaking down silos between departments and encouraging cross-functional teams to work on projects together.
Barra understands the impact a well-crafted winning team that is built on each individual's talents and skills, can have on the bottom line. Hence, she took the initiative to integrate the best strategies and tactics for establishing winning teams who can achieve greater outcomes than the sum of their individual parts – a premise every executive should aspire to emulate.
Why Should You Focus On Winning As A Team?
Focusing on the team winning as a group can bring tremendous benefits to organizations.
By unifying the efforts of individuals who possess complementary skills and abilities, teams can become engines of creative innovation and progress. A collaborative environment that builds on individual team members working towards an aligned vision will only help to create a winning team dynamic that will drive team success.
The synergy of winning teams goes beyond just achieving goals and objectives; it also involves an attitude of collective success that all team members can take pride in. When everyone is focused on winning together, each team member will be motivated to contribute their best and become a better team member in the process.
Motivated, aligned winning teams who understand the WHY behind their efforts will be better equipped to stay focused, motivated, and triumphant.
What Do Winning Teams Look Like?

While the definition of a winning team may vary from organization to organization, the core characteristics of a great team include:
Aligned Vision and Goals
Poor team alignment is a major deterrent to success as 68% of companies reported it leads to dismal employee engagement, and motivation and promotes a lack of accountability.
Sharing your WHY – why you do what you do – helps to align team members around a common vision that they can champion. Furthermore, regularly assessing the level of alignment of your team with an alignment survey will ensure the team is up to par with the company's best interests and overall vision.
Teamwork and Collaboration
A united front protects the team from any internal disarray, fosters trust and understanding, and acts as the cornerstone of a winning culture. To ensure your team is working together seamlessly, make sure to allow for feedback, discussion, and collaboration.
You can expect people to work better and faster when they are working together in an environment that supports mutual understanding and allows for openness.
Proactiveness
Having the insight to anticipate potential problems and address them before they happen sets a winning team apart from other teams. Encourage team members to take initiative, be proactive with their work, and continually look for ways to push the business forward.
How To Create A Culture Of Winning On Your Team?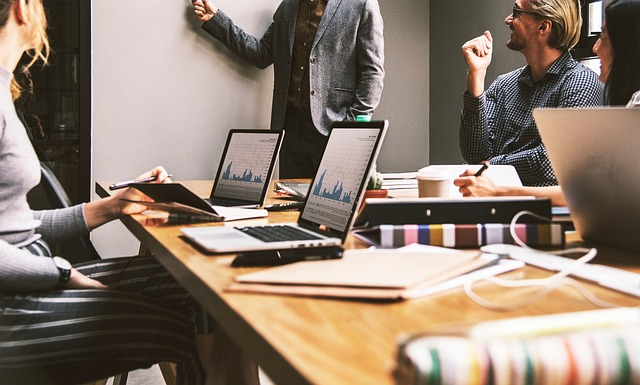 Creating a culture of winning on your team is an ongoing process and requires dedication from all team members. Here are 8 key components to consider to build a winning team:
1. Create a Clear Map
Starting from your WHY, create a roadmap – your HOW – that will guide your team to delivering successful results – your WHAT. Organizational misalignment has a ruinous effect on your bottom line A clear vision, outlined timelines, and simple objectives can help spell out your plan, purpose, and process.
2. Have a Shared Scoreboard
A shared scoreboard is a centralized tool that provides visibility, and transparency and keeps everyone on the same page. It should provide a clear overview of how your teams are doing and how close they are to achieving their common goal.
As a business, you can use online scoreboard tools to help your teams track and focus on crucial business KPIs and metrics.
Leaders can use these as a source of motivation, inspiration, and energy. It can help your team stay attentive and focused on the goal while rewarding them with a sense of accomplishment as they achieve their targets.
3. Focus On Team Members
The success of any team resides in how successful each individual is. Make sure to create a supportive atmosphere where team members can feel comfortable and confident in their roles. Plus, with strong accountability and good communication habits, each team member will be held accountable to the other.
Provide training, resources, and guidance so team members can be successful in their tasks. Also, don't be afraid to hire a consultant; an outside perspective, expertise, and extra sets of hands can prove invaluable.
4. Flexibility And Space To Move Freely
A fluid team dynamic will allow your team to be agile and responsive to changes. To achieve this, provide room for team members to move freely while maintaining the necessary structure and clarity to ensure progress is made.
With this in mind, create space for team members to voice their opinions and provide them the opportunity to experiment with new ideas. Be open to feedback and allow for trial and error. This will all culminate in ground-breaking ideas and improved team performance.
5. Develop A Vision And Aligned Goals
Creating a unified company and team WHY ensures everyone is aiming for the same target. These two tiers of WHY is the lovechild of your personal WHY- your passion and purpose.
Start by creating an overarching vision for yourself and then align it within a team and then the company. To ensure everyone remains on the same page, carry out regular alignment surveys to ensure everyone is on the same page with the team's vision.
6. Create And Communicate Shared Plans
Having a clear plan of how to get to the target and how each team member fits in is key in creating a successful team.
Communicate how each team member contributes to the plan, how their roles fit into the greater picture, and how they will be held accountable for their actions. Once the plan is in place, make sure to consistently review it and adjust when needed.
7. Set Expectations for Feedback
Feedback is essential in helping team members understand how they are performing and how to further improve. Establish how team members can give and receive feedback, how it should be communicated, and how to handle disagreements.
Overall, your entire team should have a safe and comfortable environment to openly and respectfully communicate how they feel. This will help everyone be more productive and even enhance team morale.
8. Focus On High Performance
Focus on high performance from the start and make sure to celebrate team wins. Encourage team members to push themselves, take risks, and test out new ideas. High-performing teams are the result of challenging work, open communication, and a drive to succeed. Invest in your team's success by nurturing a culture of growth, learning, and innovation.
As Facebook CEO, Mark Zuckerberg said, "The biggest risk is not taking any risk… In a world that's changing quickly, the only strategy that is guaranteed to fail is not taking risks."
By following these steps, you can create a winning team culture with an emphasis on collaboration and innovation that will help your organization reach its goals.
SMART Goals And Plans
SMART goals provide structure and clarity to your team's efforts. They help break down larger objectives into individual tasks, measure progress, and allow room for adjustment and improvement.
When it comes to plans, make sure to create a plan that is comprehensive, detailed, and achievable. By accounting for how much time and resources each task requires, you can create an effective roadmap that will help bring your team to its desired outcome.
SMART goals are broken down into:
Specific: Define what you want to do
Achievable: Can the goal be achieved?
Relevant: Is the goal feasible and relevant?
Timely: When do you plan to complete the goal?
Leadership That Aims To Win
As a strong leader, you play a pivotal role in building a winning team. Your enthusiasm and vision should be contagious, motivating your strong team to keep going even when intimidating obstacles and challenges pave their way, resulting in massive team wins.
Not only should you provide guidance, but also be an effective listener and communicator. Your teams should also feel comfortable speaking up and offering feedback or discussing how they can improve their chances of success.
By striving for excellence from both yourself and your teams, you can create a winning business culture and environment where everyone is on the same page and working towards a common goal.
If you need help in fostering a work culture that prioritizes both forward-thinking and collaboration, become a part of our Red Thread Leadership ™ model. We have worked with many businesses to develop leadership strategies that will help build a winning team!